Introduction
Everyone who helped to make Kobold Adventure, be it by donating or by contributing, is listed here. My deepest gratitude goes out to each and every single one of you. Thank you for doing your part. Thank you for making Kobold Adventure possible. Thank you for believing in not only the project, but in the concept of a choose your own adventure game featuring kobolds.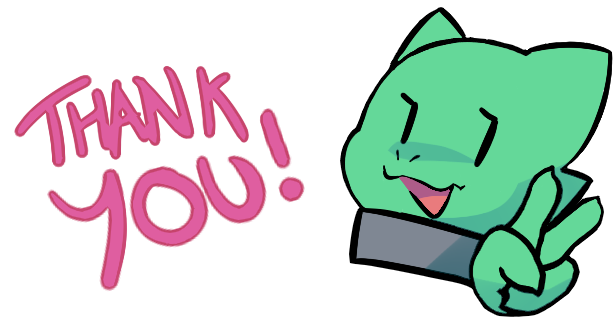 Creators
The people who made the game.
Contributors
These guys wrote scenes or contributed images that made it into the game itself. Hover over their tiles to see what they made. If you want to try your hand at contributing to the game, check out the contribution guide.
Fan artists
People who made fan art or fan fiction. The art and stories themselves can be seen here. If you want to try your hand at making fan art for the game, check out the contribution guide.
Donators
Everyone who ever donated to Kobold Adventure's Patreon. If you want to be on this list, check out Kobold Adventure's Patreon.
Patreon
Patreon is the primary website funding the development of Kobold Adventure. Thanks to it, I can spend my time on the game instead of begging for money on the streets or giving cheap blowjobs in dark and shady alleyways. Be sure to check out Patreon, and Kobold Adventure's page on it!
Ko-fi
Ko-fi is an alternate donation website, useful for people who don't want to use Patreon for whatever reason. You can by me a coffee here!
Spreadshop
Spreadshop powers the Kobold Adventure store, allowing people to buy real life merchandise at affordable prices, while fairly splitting the profits. You, too, can start your own merch store there! https://www.spreadshop.com/
Draw.io
Draw.io is the free, online diagram tool used to create all of the scene trees for Kobold Adventure. Furthermore, its XML-via-URL loading capability is what makes the aMap feature possible. I can highly recommend it for anything related to graphmaking (especially the offline desktop version). You can check it out at https://www.draw.io/.
Freesound
Freesound is a pretty nifty website where you can get a bunch of high quality sound files for free. Since I am too dumb and unskilled to create my own audio, most of the stuff I use comes from there. Be sure to give credit where credit is due if you end up using Freesound yourself!
Audio
Here are soundtracks included in the game, and who they were made by. Most of them fall under the Creative Commons Attribution license. All audio below not originally in .mp3 format can be presumed to have been converted to it.